17th Virginia Infantry Regiment

Company H

The Old Dominion Rifles

Thank you for visiting the site of the
Seventeenth Virginia Re-enactment Regiment (UK).

Racists, hate groups and other lower life-forms - click here
If you've been here before, click on the link, below, to see what's new.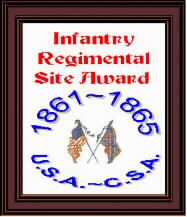 We are a family orientated American Civil War Re-enactment group based in the UK with members from all walks of life which include families as well as single men and women.


Our Mission
To recreate the lifestyle of the men and women who lived through
The War Between The States (1861-1865).
We set out to portray, as accurately as possible, the ordinary men and women of the 1860's caught up in the American Civil War. We do not condone any extreme political views or hold any racist ideals. Our aim is to help educate people of all ages and backgrounds into the realities of life and death during this tumultuous event in American history.
Our aim is not to glorify war but, rather, to show the great sacrifices made by American people of all ages, sexes, ethnic and social background during this period of history.


Company Profile
| | |
| --- | --- |
| | Started in 1988. |
| | A fighting Regiment of SoSkAn |
| | Members from the Southwest to the East and from the North to the South of England. |
| | |
| --- | --- |
| | SoSkAn's Company of the Year, 1998 |
| | Brown's Brigade Company of the Year, 1995 |
| | |
| --- | --- |
| | Families welcome |
| | |
| --- | --- |
| | Spare uniform and equipment available to borrow to enable new members to "try before you buy!". |
| | |
| --- | --- |
| | A friendly bunch of people who can't sing - but it doesn't stop us trying! |


Contact Information
If you wish to send comments or questions to us about the contents of this site or any other (related) subject please feel free to click on one of the links below or send it via our Feedback Form. If you wish to leave us a message, go to our Guestbook or Forum. Thanks for checking us out and hope to hear from you.
Electronic mail

General Information: 17th-virginia
Recruitment officer: Simon Morse
Webmaster: Steve Gibson
guest, this site is a member of the WebRingView a complete list of WebRing memberships here
This site is a member of WebRing. To browse visit here.